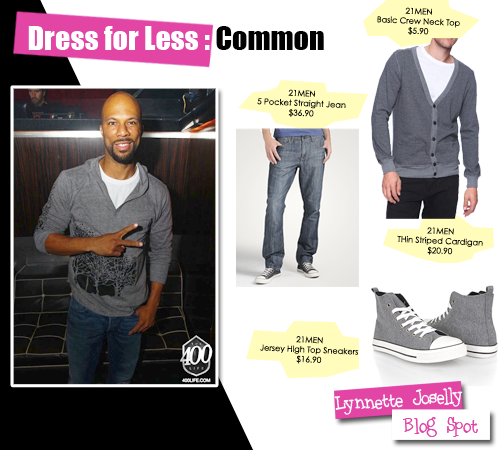 Last week Common came to celebrate Thanksgiving Eve in Miami, Check out pictures on previous
blog post
. Now yes fellahs.. he wore this outfit to the club. But don't think you can get away with it as well. You can wear this outfit else where.. to the movies or a lunch date.
I shopped around for the guys once again at
21Men
. Listen.. it is the most inexpensive male store around.. work with me! To start off with you can purchase a
Thin Striped Cardigan
or any other grey v-neck hoodie. Layer it over a white
Basic Crew Neck Top
. Pair it up with some classic denim wash
straight jeans
and high top sneakers.
You like it don't you.. ? To stay updated on my blog posts like my
Fan Page
on Facebook.
Miss Me
LJ