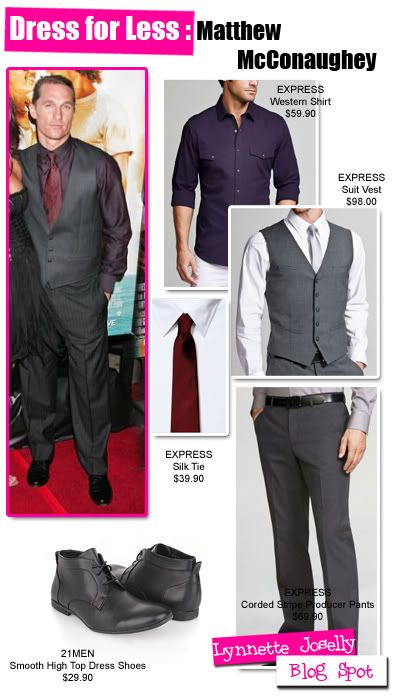 I have been watching Matthew McConaughey on TBS all weekend! And I must say he is such a cutie! You guys are probably thinking.. dress for less featuring Mr.McConaughey ??? He is always showing off his washboard abs, this dude never wears clothes! But on the red carpet.. clothes are required! He wore this outfit to the premiere of Fools Rush featuring Kate Hudson.
Fellas, it def sucks for you because females have it so easy, with fashion that is. We can buy full outfits for $30 or less! Guys on the other hand, your clothing is a bit more expensive. Moving on though, Express is the store to go to when you want to dress all GQ, or in spanish "papi shampoo". For this outfit you can start off with a
midnight plum dress shirt
. Layer over a
grey suit vest
with a
burgundy tie
. Side Note: I like McConaughey's choice of colors for this outfit. For the bottom, he wore
grey striped modern fit pants
. Lastly, any
black dress shoes
will do and don't forget your belt and shoes have to match!
Till next time lovelies!
XOXO
LJ