400 SET
Last week The 400 Club started their Wednesday parties at SET nightclub and I must say it is a very sexy and exotic night scene. There was an open bar from 12 AM to 1 AM sponsored by Belvedere Intense. This past Wednesday at SET, American recording artist, songwriter and producer Miguel performed his single "All I Want Is You." Dwight Howard, Quentin Richardson and Gilbert Arenas from the Orlando Magic were in the building setting off fire works with their "bottle wars" as
@Balleralert
tweeted that night.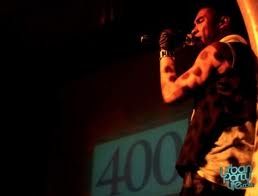 IN THE STUDIO W/ THE 400
Grammy-nominated American rapper and actor, Cam'ron hosted In The Studio w/ The 400 at Mansion Nightclub on Thursday. Me being from New York and all you already know I am a Diplomats fan.
I Really Mean It
.
Cameo Saturdays
Mr. Steal Yo Girl a.k.a Trey Songz hosted Cameo Saturdays. The ladies were lined up outside in the rain an hour before doors opened. The things women sacrifice for Trigga. He started off the night with "oh baby what's your name". In my Trey Songz voice, "yyyyyyuupppppp", the ladies were saying AHHHHH as he poured some drinks. Kevin Hart joined in on the fun after he finished his Comedy Tour at the Jackie Gleason Theater on Miami Beach. Kevin Hart, being the comedian that he is, debuted his newest single "Bitch! Those Panties Is Mine" at Cameo alongside with Trigga.