by
Laurel Pantin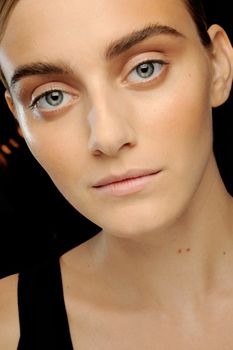 All in all, it's best to leave the major maintenance to the pros and do in between touch-ups yourself (two or three hairs, max!).Browhaus' founder Cynthia Chua to learn what to do if you do happen over-pluck, "Over-plucking is a common problem for DIY brows, and it can sometimes take months for them to grow back, if they ever do. If it does unfortunately happen, here's what you can do to get your brows back to their former glory.
Try a lash growth serum, like our Eye Lash Perfection
($32) on the bald spots. It strengthens, conditions, and promotes hair growth and will work just as well on your brows as on your lashes. Before you apply the serum, massage the brow area gently in a circular motion as increased blood flow stimulates hair growth. Apply the serum on the brow area twice a day, and be more careful next time!
If you're near a Browhaus location, come in for a Colour Tweak. We'll adjust the color of your brows slightly so that it suits your hair and complexion, and can make over-tweezed brows look a little better. For example, lighting your arches will make sparse areas look less obvious.
Finally, aside from external solutions, it's vital to tackle the problem internally as well. Your diet will play a role in your hair growth rate, so make sure you
eat foods that are high in protein, iron, and vitamins B and C
, such as lean meats, vegetables, citrus fruits, and dairy products. These vitamins and minerals help to stimulate hair growth."
Read More:
Teen Vogue