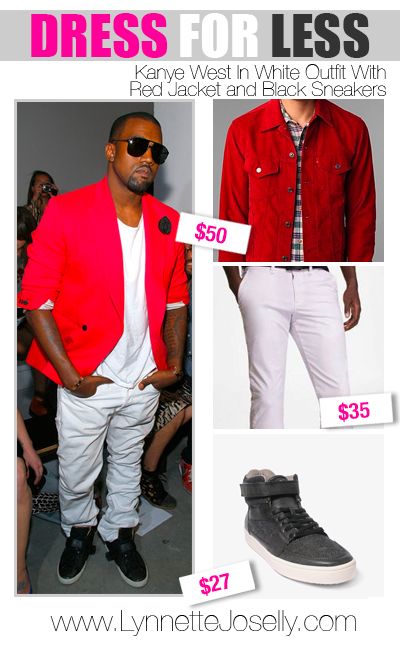 I think we can all agree on the fact that Kanye West is one fashionable fella! However, doubt you guys got the mula to buy those high end brands this rapper is always wearing. Don't worry though, LJ will help you out in getting a similar look like Mr. West. The outfit I chose here is not too daring so most of you will be able to pull it off.
Let's begin with a red blazer or jacket. Check out
Levi's Slim Corduroy Trucker Jacket
for sale at Urban Outfitters. Next, any simple white T-shirt will do for an under shirt but since it's cold I recommend a
Ribbed Crew Neck Pullover
from Forever 21. I am not a big fan of skinny jeans on guys, especially if they over do it where it looks like they are wearing leggings. But hey! You can rock whatever makes you happy! Check out these white
Colored Chino Photographer Pants
from Express. Lastly, you should all have black sneakers in your closet but just in case you don't I thought these wool-blend
Herringbone Sneakers
from Forever 21 were hott!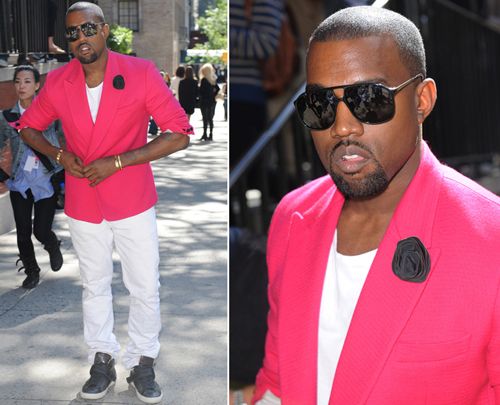 I would love to see how you guys wear this outfit so feel free to send me pictures!
More Male Fashion:
T.I. in Martin Margiela Sneakers, Louis Vuitton Christopher Backpack & Brazza Wallet
Lance Gross Shows Off His Louis Vuitton Christopher Backpack
Devin Thomas Wears Inspired Knots Tie for Magazine Cover Shoot