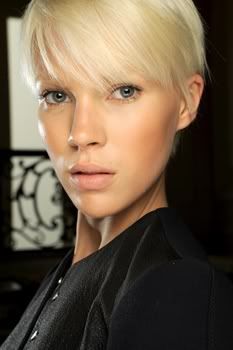 Dark circles are often hereditary, which can be a drag because it means there's no real way to prevent them (darn genetics!). But luckily for those of us who suffer from the dreaded discoloration, there are ways to treat and cover up dark under eye circles.
"Topical creams--such as my R3p Eye Cream--can help treat dark circles,"
says Fredric Brandt, MD, a celebrity dermatologist and best-selling author.
"Look for topical products that contain retinol and peptides (which help strengthen and stimulate collagen production), caffeine (which constricts blood vessels), and products that have anti-inflammatory ingredients such as green tea and aloe."
Brandt also recommends using an eye cream with illuminating particles that reflect light.
Clarins celebrity beauty artist Pati Dubroff follows the mantra 'less is more' when it comes to covering up dark under eye circles.
"The biggest mistakes are to use a heavier concealer around eye area. These are best for sides of nose and blemishes and only should be used in extreme moderation."
She recommends using foundation first "to see how much of the job it takes care of" then using a concealer
"in a tone a bit lighter than your skin color, in a brush form that is targeted for brightening the under eye area. Use this in the entire under eye area. If that didn't do the trick then use a heavier concealor which matches skin color exactly on only the lower part of orbital bone (where the darkest crescent forms). If you have dark circles under the eyes it is best to stick with light shimmering eye shadow and to skip the heavy eyeliner. Heavy eyeliners will add more shadowing and light tone shadows will brighten all over eye area."
Her favorites are Clarins Instant Light Eye Perfecting Base to even and brighten the lids which help brighten whole area. If all else fails, Pati suggests using a
"pop of bright lipstick"
to draw attention away from eye circles!
Read More at
TeenVogue.com