By
Sam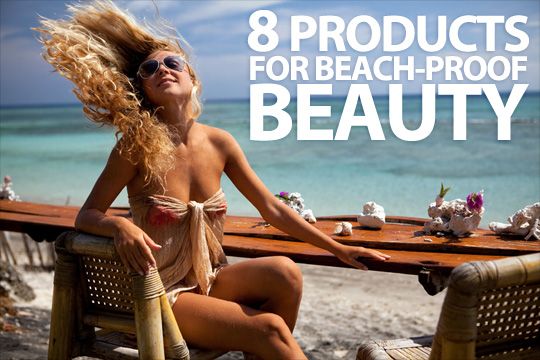 The beach can be a place to let down your hair and bare it all, a place to skip the makeup and step out with a nude face (and lots of sunscreen). But the beach can also be a hot spot for fashion gurus and socialites, especially after dusk or by beach side restaurants and bars, where wearing makeup is still the norm.
If you're wearing makeup to one of those beaches, then you know how harsh a mistress the beach can be when it comes to messin' with your makeup and hair.
At beaches where the men are sporting mid-thigh shorts and leather sandals designed to transition from the surf to the veranda at the resort's beach side bar, and the women are wearing makeup — not much, mind you, and nothing outrageous — and jewelry that isn't made from shells or stones peeks out from their designer bikini tops, you might want a few of these beach approved beauty products in your bag.
Wind, water, and sun can quickly cause a beauty catastrophe, but a bag stocked with some of these eight items will keep you looking fresh-faced and fine until it's time to pack up the cooler and put away the beach towels.

1. Face Atelier Foundation ($45)
This foundation has a silicone base, helping it hold up even when exposed to water (just make sure not to rub!). The finish is satiny smooth, and gives skin a faint but healthy glow, while still allowing its natural texture to shine through. With Face Atelier Foundation, it barely even looks like you're wearing anything at all — perfect for places where you don't want to look too made up.

2. MUFE Aqua Eyes Cream Liner ($20)
These gel/cream eyeliners are easy to apply quickly. They don't tug at the skin, and won't steal time away from your fun in the sun. They simply refuse to budge without a dedicated waterproof makeup remover, meaning that you can swim till your heart's content without ever having to worry about rivulets of color running down your cheeks.

3. MUFE Full Cover ($30)
Another silicone wonder, this concealer can hide even the darkest of under-eye circles or the most egregious of blemishes, all while remaining water- and sweat-proof. Depending on the condition of your skin, you might be able to skip your foundation and just dab a bit of this wherever you need some extra coverage and confidence. With Full Cover, you're good to go for 24 hours, at least.

4. Tarte Matte Waterproof Bronzer ($29)
This orange-free bronzer delivers a healthy wash of color perfect for those who prefer not to spend very much time in the sun. Salt water won't bother it, either, as it stays exactly where it's put, without running, fading, or oxidizing. Buff it onto the high points of your face for a sun-kissed glow…without the sun.

5. Nurturing Force Blot Out Offensive Shine + Oil Control Cream ($21)
This wonder cream is a godsend for those of us with skin that produces even more oil than usual when it's hot. Massage this all-natural, emollient cream onto the skin before applying sunscreen, and forget about having to blot your face at all for at least the next eight hours (yeah, I think it's that good). As a bonus, it helps cut down on facial redness, an affliction that plagues many of us in the summer months.

6. Obsessive Compulsive Lip Tars ($13)
Like pure pigments in a tube! Grab one of the nude shades, or the clear, and dab a dot in the center of your bottom lip, blending outward. Blot with a tissue, and you're left with a gorgeous, sheer stain that will catch every scuba diver's eye (in other words…it's waterproof).

7. Maybelline Full 'N Soft Waterproof Mascara ($8)
For me, Maybelline Full 'N Soft Waterproof Mascara is hands down the most effective of the natural-looking budget mascaras out there. It seems to add just a tint of color to lashes while helping them maintain a curl for hours on end. And as long as you're careful not to rub…it shouldn't smudge or run even after swimming, something many other "waterproof" mascaras can't claim.

8. Davines Defining Invisible Styling Cream ($19)
A dime-sized dab of this wonder lotion keeps hair looking soft and in control no matter how hard the wind blows. Avocado and rice bran oils keep your hair moisturized and nourished even after a dip in dehydrating salt water, while UV filters help protect your strands from the sun's damaging rays.