by Laurel Pantin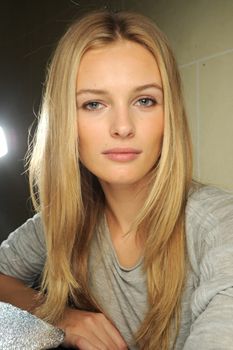 No matter how pretty your hair looks when you leave the salon or your house, being hit by the winter elements quickly reminds you that certain things are out of your control: Gale-force winds, dry and staticky air, and your cozy knit hat can all end up wrecking your 'do. Thankfully, the geniuses behind NYC's Blow blow-dry salon (which specializes in gorgeous, supermodel-style blowouts) have put together a few do's and don'ts to help keep your holiday hairstyle looking lovely. Take that, Old Man Winter!
DON'T . . . Be worried about hat hair. After taking off your hat, work Faux Dry dry shampoo into the crown area to create instant volume. Who says you need to stop looking fabulous just because it's cold out?
DO . . . Spice things up by adding a sparkly hair accessory for the holiday season. A fun headband or barrette can instantly take your hairstyle from work to play in no time.
DON'T . . . Give in to static. Apply Ready Set Blow blow-dry lotion and Tress Relief leave-in conditioner onto towel-dried hair before blow-drying. This cuts down the drying time so you don't overexpose your hair to heat, and it also keeps locks nourished and protected from the winter elements. Your hair is left feeling smooth and static-free.
DO . . . Keep Faux Dry in your bag. Holiday parties are usually after school or at night, and unfortunately, hair tends to get oilier as the day goes on. This lifesaver will refresh your style and add instant volume.
DO . . . Create an elegant bun on the go. Work in a soft pomade (try Mane Tame) or light serum (like Weather Girl), sweep hair up into a bun, and secure it with bobby pins. This sleek look is a perfect match for any chic holiday outfit.
DO . . . Add drama by creating a deep side part--a trend that was seen all over the fall/winter 2010 runways. It's a great style on everyone! It looks especially fantastic when partnered with an updo or a sleek blowout.
Read More
30 Days of Holiday Beauty: Holiday Hair Do's and Don'ts | Teen Vogue