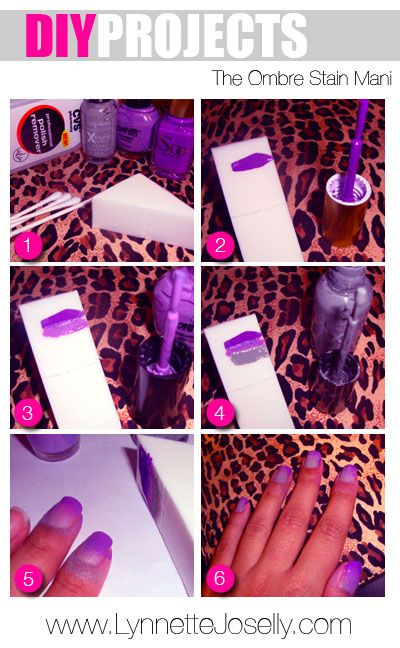 Since the ombre trend is popular amongst hairstyles, here is a cool and easy way to bring the trend onto your nails.
Step 1:
You are going to need, 3-4 different nail polish colors, a triangle makeup sponge, q-tips, nail polish remover, and a clear top coat. Note: Try to keep the choice of nail polishes in the same color family with different shades, because your goal is to show a gradient of light to dark.
Step 2:
Keep the lids off your nail polishes unscrewed since you want to work quickly. Apply a single line of the darkest color on the edge of the sponge. Coat it more than once, that way the sponge doesn't absorb it all and their is still some left to transfer to your nail. Take the next shades and add other lines under the darkest color. Try to work quickly so the nail polish doesn't dry out.
Step 3:
Now that your sponge has all the colors you want, you are going to start dabbing the sponge on your nail to create the gradient effect. Try keeping in the same spot when going side to side on the nail and you will start seeing the colors blend. Repeat steps 2-3 for each nail. Oh and it doesn't matter if you have a mess around your nail, we are going to clean that up after.
Step 4:
Use your q-tips and nail polish remover to clean up the sides. Add a top coat and TADA! You now have ombre nails! Feel free to send me photos of your new ombre nails and I will post it on my
FaceBook
!
More Beauty Posts:
How to Get Sexy and Toned Thighs
Dare to Bare Your Underarms!
Embarrassing Beauty Disasters Solved