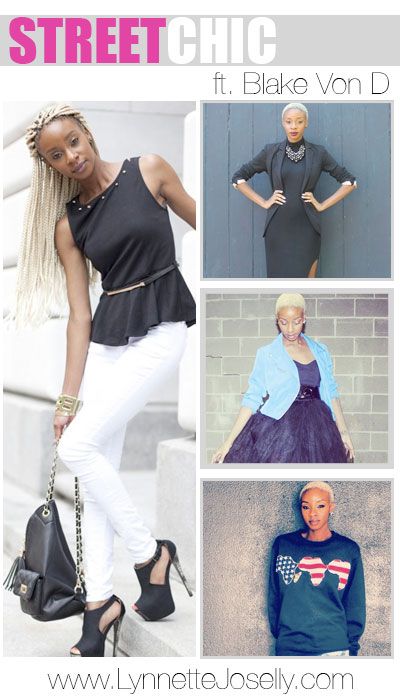 Meet one of my fellow Socialbliss Style Ambassadors, Blake Von D. Being born and raised in Georgia, she considers her self old fashion but "spunky and sassy enough to keep you on your toes." After graduating from Spelman College in 2009 she then moved to the Big Apple to receive a Master's Degree from NYU. It doesn't end there, this fashionista is the true definition of "Brains & Beauty" as she is currently attending law school. I had the chance to get to know Blake a little better as we chatted about what we love most, FASHION! Check out the interview below!
LJ: When and why did you start blogging in the fashion media industry?
Blake: I've been blogging since 2009. I didn't originally start out as a fashion blogger. My blog was really just a space for me to write about the things happening in my life. But overtime, readers really started to respond to what I was wearing so I began to shift my focus to fashion.
LJ: All-time favorite fashion designer
Blake: Easy...Alexander McQueen
LJ: The celeb's closet you would most like to raid is and why?
Blake: Rihanna. She's fearless and bold. Teyana Taylor. I love her blend of femininity and tomboy chic.
LJ: How would your describe your personal style? What inspires your style?
Blake: I always have a tough time describing my personal style. It's always changing and it really just depends on my mood. I like to be pretty and dressed up but I don't like overly "girly" pieces. Things like ruffles and floral patterns make extremely uncomfortable. Probably because I feel like they make me look younger than I already do. lol
LJ: Favorite item that you are selling on the Socialbliss Marketplace (Online Closet) is...
Blake: My
Michael Antonio Platform Wedges
($72). They're a great statement shoe.
LJ: What are some upcoming trends we should look out for?
Blake: 90s denim is really making a comeback right now. Overalls, knee length denim skirts, acid wash bombers, etc. Time to raid your moms closet and pull out some of her high school favorites!
Follow Blake on Socialbliss:
Socialbliss.com/BlakeVonD
Check out Blake's Blog:
BlakeVonV.com