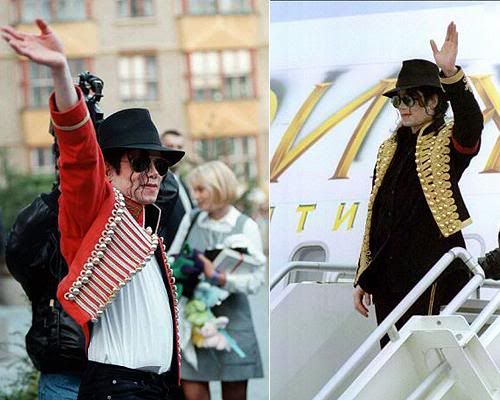 I mean... I don't know about you all but this trend has to be the hottest trend ever!! I am absolutely obsessed with it. Anything with those military buttons attracts my attention. If I am not mistaken this trend started poppin' after Michael Jackson's death. A great man inspired the fashion world and now both men and women are wearing these military jackets. This trend preserves and admires our history and culture.
The actual army print is trending as well, but that print might be a bit too much for me. I stick to the army colors such as olives and khakis with some nice military boots. Hott!!
Below I have picked out the items that match this trend in the stores I usually shop at. Click photo to purchase item on company website. Look out for discount codes!
Forever XXI
Chain Trim Military Vest - Sale $9.99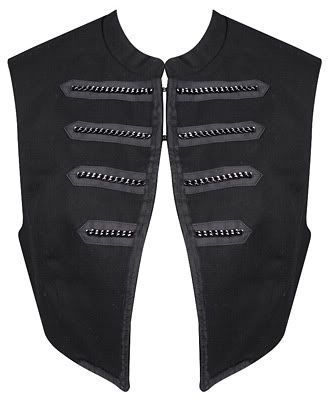 A canvas-woven vest featuring dark-colored chain trimming along the military-style front. Other features include a 2-hook-eye top closure, a semi-cropped length, smooth woven lining, and a finished hem.
Theater Box Jacket - $27.80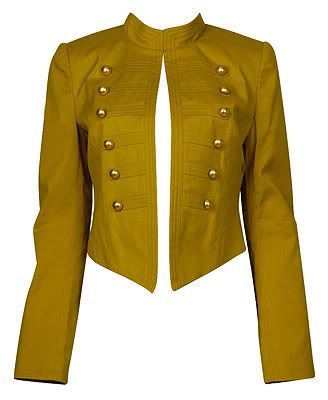 With its celebrity vibe, this woven jacket features a sturdy woven construction and stylish appeal with its military-inspired buttons. The front can be closed at the top by the hidden hook-eye closure while the lining is smooth like satin. Lightly padded at the shoulders. Brushed metal-colored buttons. Lightweight.
HAUL CONTEST
Papaya Clothing
DOUBLE BUTTON MILITARY JACKET - $19.99
BOLD BUTTON MILITARY VEST - $15.99
DISCOUNT CODE :
Click
HERE
to print 10% OFF coupon / EXPIRES AUG 31 2010
HOTMIAMISTYLES
Black White Military Strapless Top - $24.99
Military inspired strapless top features white mid-section with gold faux buttons detailed with anchors going down the front, ruffled hem and back zip closure.
White Military Bandage Dress - $39.99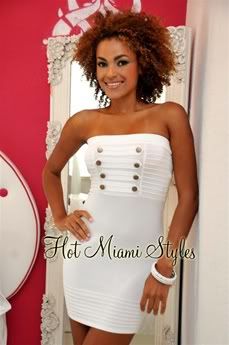 Featuring Leila Depina AKA Exotica from For The Love of Ray J. This is what all the celebs are wearing.. Body hugging bandage knit fabric that molds your body into an hourglass shape. Made with straps of fabric bound tightly like a bandage which will accentuate every last curve of your body. Featuresa military button front with metal detail and bandage accents. You will fall in love with the fit this stunning dress will provide!
EXCLUSIVE TWITTER COUPON:
15% off www.HotMiamiStyles.com for 1 day Only! Code: 15PERCENT1DAY817 - Exp. 8-18
Miss Me,
Lynnette Joselly