Love your skin! Start the year with a fresh face with these easy tips from the pros.
by Laurel Pantin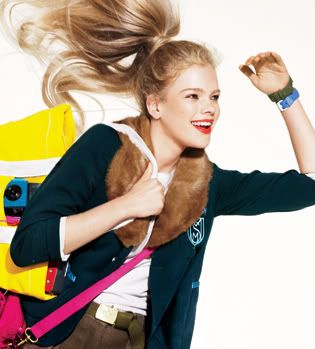 Don't let a busy schedule get in the way of taking care of your skin. Establish a regimen and stick to it. Check out our six tips to keep your skin clean and clear.
ZAP ZITS
The most common skin woe among teens, acne can unfortunately be a chronic condition. "It's caused by hormones, inflammation, overactive oil glands, and plugged pores," explains New York City-based dermatologist Laura Buccheri, M.D. "Treat breakouts by washing your face twice a day with a gentle cleanser. Scrubbing with harsh products will just irritate the bumps and make them look worse."
SHINE AWAY
Although having oily skin can be annoying, it isn't all bad. "We produce vitamin E, which acts as a protective barrier, in our sebaceous glands. Oily skin just has more of it," notes Jeannette Graf, M.D., a New York City dermatologist. If you're worried that your face will shine like a disco ball by third period, fear not! "Washing with an oil-control face cleanser and using astringent pads throughout the day can keep shine under control," Graf says.
GLOW ON
Dewy, lit-from-within skin never goes out of style, according to Charlotte Willer, Maybelline New York global makeup artist. "An illuminator brings a glow to the face. Apply it to the tops of your cheekbones and to the inner corners of the eyes. It will make your complexion look light and fresh," Willer says. If your skin needs an extra bit of coverage, use concealer sparingly to cover any dark circles or blemishes, and then finish with a highlighter.
PUFF CONTROL
Under-eye bags are a bummer and can be hard to banish. "Genetics play a part," says New York City-based dermatologist Amy Wechsler, M.D. Aggressive treatments can backfire, warns Buccheri: "Exfoliating under the eyes can irritate the skin and cause pigmentation," she says. Still, there are some tricks that can help. "Treat your allergies," Wechsler advises, because irritated eyes often become swollen. "Also, eating less salt can help with puffiness."
TAKE CARE
Before hiding a spot, lightly spritz water onto the skin, makeup artist Rebecca Restrepo says. "Water adds moisture without adding oil and will soothe the pimple. Always use a matte concealer; a shimmery finish will spotlight imperfections," she says. To deal with under-eye circles, Make Up For Ever educator Jessie Powers suggests a two-step approach: "Apply a color-corrective concealer on the darkest area, and then use a skin-toned concealer on top."
BODY ROCK
"To fight acne on the body, treat it like acne on the face," says Emer Gillen, lead international trainer with Elemis. "Use your facial products on acne-prone body parts, like the chest, neck, and back." Stubborn bumps that look like chicken skin could be keratosis pilaris not acne. "It occurs when keratin proteins form hard plugs in the hair follicles," says Los Angeles aesthetician Kate Somerville. "Salicylic acid is the best ingredient for this problem."
Read More
www.teenvogue.com